History of Vejgari kennel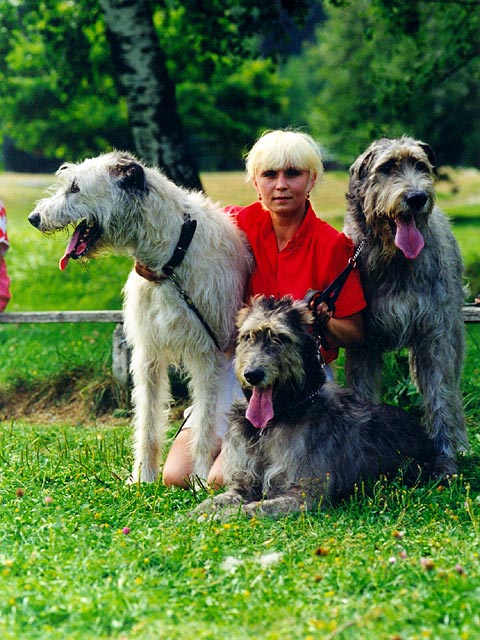 In year 1984 during celebration dog show in Riga I saw among many German dogs fastened to the fence huge, shaggy dog who was many times larger than the German dogs. When I saw this dog I told " I want this thing"! And only after the show I was told that this is the irish wolfhound who was the first dog brought into USSR territory to be shot in the movie "There is also grass growing on the stones" . And I looked for any literature I can find on this breed of dogs. After some time I got phone call from owner of Hassini Saggitarius ( dad of Der Linda Dorsi ) who offered me his puppy. And so I got Heleti Grejsi. But not everything went as expected. Grejsi died. It seemed that some bad was taking over me.

I decided not to go for this breed, but my husband, the owner of irish wolfhound Hassini and my destiny did plan something else for me. In March 1992 white coloured Boiga Elvi became part of my family, and right after her Lorhi-Vilardi-Favorit. These two bitches were the very start of my irish wolfhound kennel. Boiga did give me many unforgettable minutes and love that can only be given by irish wolfhound. She was really my dog.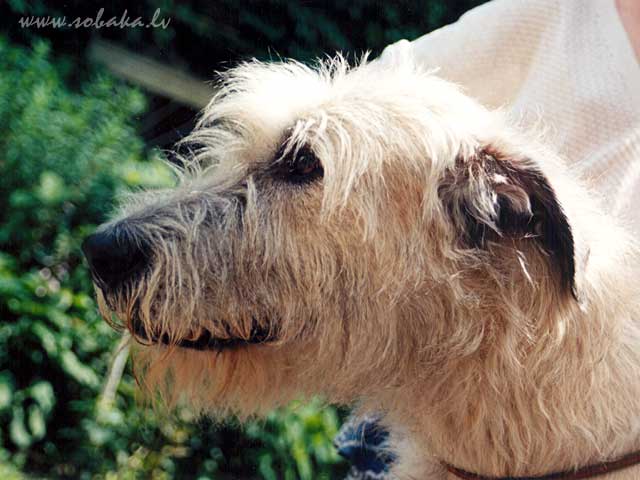 She did not like dog shows very much, but she was ready to tolerate everything in order just to be with me. She was the first irish wolfhound who became first Champion of Latvia.

But Vilardi ( called at home Djusja ) gave me dog Arguss Veijgari as her puppy. This present was meant directly to me as I have neverhad any dogs of irish wolfhound before and I was not ready to have them at all. But Arguss did everything not to be sold to any other owner, but to stay with me. He was getting ill, he was getting limp when I had buyers for him, and also at that time he was the best dog in his breed being just 9 month old. When he was 14 month old I gave him as a present to... myself… on the New Years Eve.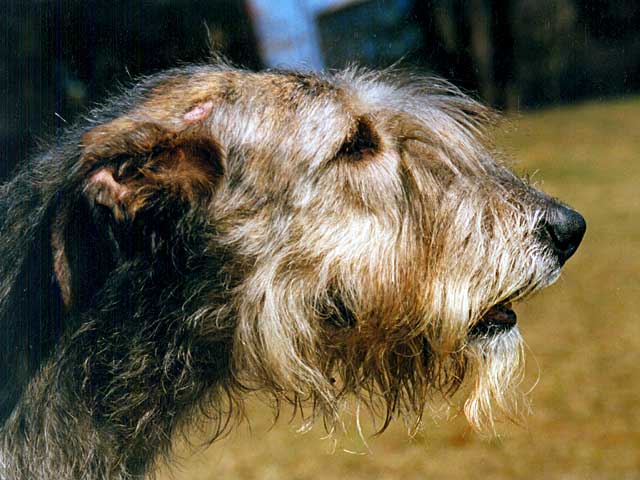 For all that time I have been dealing in irish wolfhound breeding I have not had so many litters in my kennel. But each of them was special. During all the time I keep being very close with all the owners of my puppies from my kennel. For the first time when I meet the potential owner of my puppy, I want to know the reasons why they want to have irish wolfhound puppy. And when I get answer from them that they want that puppy to be a part of their family, for their heart as we say, I proceed with the negotiations. Thus my irish wolfhound puppies get beloved owners and I get new friends. And only after this very important issue is settled I am trying to convince them that it would be good for their puppies to take part in dog shows. Mainly they agree with me, but it is just because of me, as the Irish Wolfhound is becoming part of their families.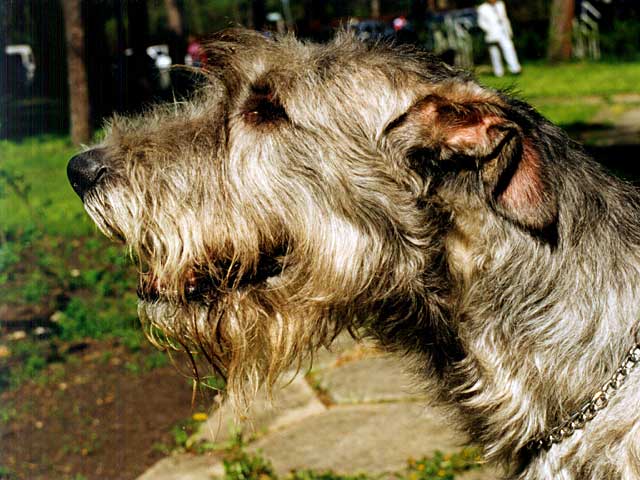 If I would start talking about every puppy I have had I could be able to write a book. If you are interested, you will be able to get short information on each of them in my web site. I am trying to work with the dogs that are bred in my kennel, which means if I do not want to leave any puppy from the litterof my irish wolfhound I had then I am not satisfied with the result I have got. And then the question appears - why to deal with that at all ? It is a pity, but the life cycle of irish wolfhound is short. Today I have my grand and great grand puppies living with me…. And I see in them just one thing- my first dogs, that is why all my dogs are always with me.
Tatjana Podolaka
( Owner of Vejgari kennel )